a hard road to the Hrazdan river
in search of Sergei Parajanov
This essay began life as a series of throw-away notes written while I was working on a more matter-of-fact study of Armenia's Soviet-era cinemas, published in the Calvert Journal. They sat it out on the benches. I've now worked them up into something a lot more personal, based on some things I didn't feel like I could say while doing fieldwork on the cinemas and for an essay about 'urbicide' in Nagorno-Karabakh, a disputed territory claimed by Armenia and Azerbaijan both. It's the third of four things I want to write about the region.
---
"a hard road to the Hrazdan river"

Few filmmakers have been honoured with a museum. There might be statues and memorials. A spray of graffiti. A book (sometimes good, sometimes not). In cinema, there are retrospectives and 'walks of fame.' But there isn't a gift shop. Or an attempt at telling a life.
After all, a museum is an effort to organize memory - and to do it physically. To commemorate, but also to learn. For Sergei Parajanov, whose museum — the Sergei Parajanov Museum — sits atop a precipice of Yerevan's Hrazdan River, it was no sure thing that this 'memorial' would ever come to pass. After all, the beleaguered and frequently misunderstood Georgian-Armenian director had spent long periods of his career in jail at the behest of the same authorities who, in 1988, gave their unexpected blessing to a facility of commemoration close to Yerevan's historic Kond Quarter. Parajanov chose the site himself. A change of opinion. Shifting sands. His 1973 conviction had taken the form of a charge of 'bribery', the 'sale of artworks', 'homosexuality' (Parajanov was bisexual). The charge was politically motivated, grounded in nothing but the government's paranoid suspicions about his (apparently) 'subversive' lifestyle, his advocacy of Armenian culture, his aesthetic 'Formalism'. The punishment was outrageous. He would spend a mess of years in a Siberian labour camp before he was freed. Jean-Luc Godard fought for his release. As did Fellini.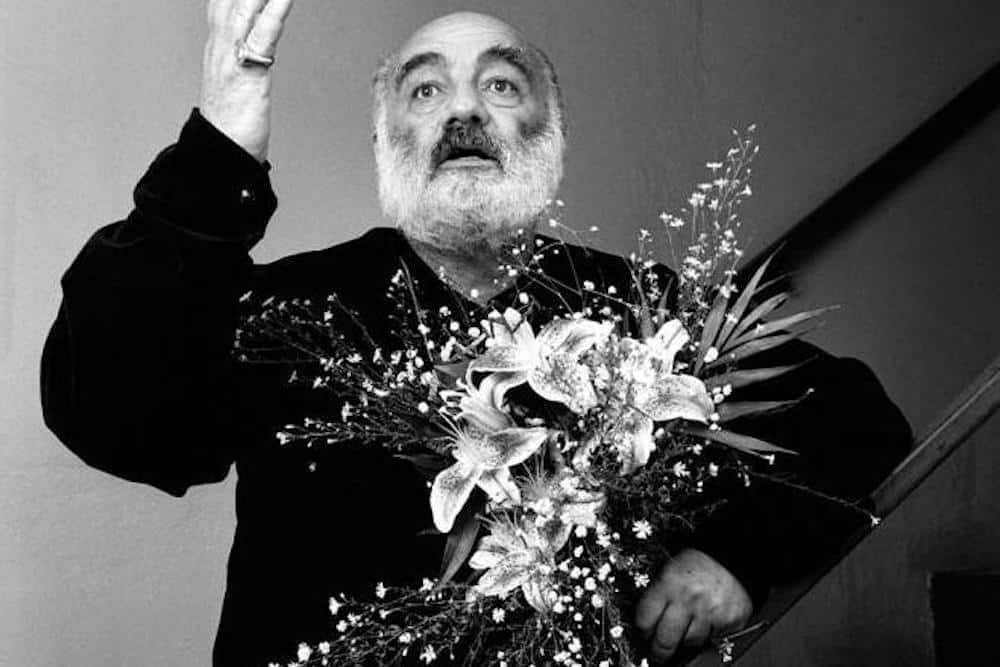 'I don't like sleepy people'. Parajanov the performer

In 1988, the Museum — only half-finished, barely begun — would be damaged by an earthquake. Meanwhile, the government who had given it the go-ahead also fell. Fatally. When Armenians arrived into the bright dawn of the early 1990s, they found themselves with a blinking and brand-new democratic government. But they also found themselves with a museum to a man whom the country now recognized as their national artistic genius. By then, he was already dead.
But they weren't the only ones to lay claim to Parajanov's legacy. As he himself observed, "everyone knows that I have three Motherlands. I was born in Georgia, worked in Ukraine and I'm going to die in Armenia." True to form, Parajanov would be buried in Yerevan's Komitas Pantheon, dappled by the shade of trees, pink-stoned, hot. It is filled with the great and good of Armenia. Theatre directors. Playwrights. Poets. There is a statue of him in Tbilisi, Georgia's flourishing capital city. His body breaks, excitedly, with arms outstretched, through a house's wall.
The Sergei Parajanov Museum, Yerevan

I first 'discovered' Parajanov while licking my wounds from a complicated breakup. I had temporarily moved back in with my parents on the Suffolk coast, finding it hard to pick up the pieces of a life that had played out on other coasts and in other countries. At age 25, it can seem difficult — however young — to re-build a life, especially under the anxious eyes of parents who, with the best will in the world, believed they'd seen the back of you. By night, I found it difficult to adjust to the norms of sleep. I sat up. Rolling cigarettes, brewing coffee, wandering in circles around the garden. I consciously chose to watch Parajanov's The Colour of Pomegranates precisely because its short, one-hour running time and promised lack of plot would be easy; something to soothe myself with, to curl up against, warm, like an animal. And then to drift off to sleep.
A 'cinema of the cryptic' - from Parjanov's The Colour of Pomegranates (1969)

That night, I would find something strangely stirring and poetically ambitious in its surreal, intricately composed tableaux. Later, I'd learn that this version, the version I watched — uploaded scruffily to YouTube — was one of many, the original having been shoved from pillar to post by a variety of advocates and bureaucrats who had either tried to cut it up or give it life. I got hungry for it, and for his wider slew of films. It wasn't a large back-catalogue - a sad but exciting thing to realise if, like me, you relish the first breaking of the ice with a new piece of art. You are always chasing that high. Finished projects. Some shorts. Screeners and tests. Half-finished things and others that had been left to rot and linger. As I learned more about his life, and about the complex politics and exegesis of producing films amidst the bureaucratic bloat of the Soviet production industry, it seemed half-obvious why a filmmaker like Parajanov (bisexual, independent, provocative) had found it difficult to sustain his career. There would be reprisals. Time spent in prison. Projects would be considered and then rejected as supportive then oppositional Mosfilm studio heads bartered and agitated for and against him.
Parajanov, caught in the flux of this, tried his best. But luckily, that 'best' has left us — the world — with a perplexing, beautiful and deeply uncommon legacy of films. Put them together, spine to spine, and they take up a little chunk on your shelf. And that is all. But it's all we have.
Born in Tbilisi in 1924 to Armenian parents, Parajanov took an initially 'conventional' path toward cinema. He was admitted to VGIK, the prestigious Moscow film school, in 1945. A bad time to make strange films. His 1954 VGIK work, Andriesh, was screened twice by the film school committee. A rare honour. After graduation, he apprenticed as a second and assistant director in Ukraine. In 1961 he made Ukrainian Rhapsody, a 'modern' work whose subject was the Great Patriotic War. It reads as 'conventional' socialist realism. Romantic, epic, burly. But there, shimmering at its edges, are those intricacies of Parajanov's obsessive choreography, his organization of bodies, beautifully, in space. Perhaps it adds grist to the mill of Evgeny Dobrenko's salivatingly revisionist argument that there is more to 'official' Soviet art than "moralistic melodrama" in the shape of Ostrovsky's How the Steel Was Tempered of 1932. The "primordial and gelatinous" core (as Gramsci called it) of the Soviet fruit planted its seeds, after all, in a mess of national cultures who found a voice beyond the craven ideologies of factory workers and their (almost always) plaited heroines (even if they could wield a rifle as well as a pan). Parajanov's 'socialist realism' might be the thing itself. But it might just be socialist realism caught in the dressing cupboard, flowing gown and crown of gold half-shoved upon its scarlet cheeks.
An intimation of iridescence - Parajanov's Ukrainian Rhapsody (1961)

Here he would produce his first proper masterwork, 1964's Shadows of Forgotten Ancestors. Where Pomegranates is slow and static, choreographic in its gestures and painterly reveals, this earlier work has a gloss of cinematic conventionality. As if it were an 'ordinary' film. A wide, lingering establishing shot of a caravan of hunters, trudging through the snow. Marichka's tragic drowning. A highly stylised and delicately composed Hutsul wedding. Ivan's disorder of hallucinations. This is an ordinary film. But then again, it isn't. Frequently, that intent is upset, unhooked from its socket joint. Sorcerers and witches bend the possibility of the real - a story set in motion with the pyromaniac spellcasting of 1954's Andriesh. Parajanov, speaking in 1989, spoke compellingly of film — of his art — as a putting on of costumes. A transformation of subjectivity.
Shadows of Forgotten Ancestors, Sergei Parajanov (1964)

A year later, he would begin work on the abortive test-screens of Kyiv Frescoes, whose ghostly, pale remains — some fifteen minutes of fragile and wavering footage — give an indication of how Parajanov had already found fertile ground with the tableaux as a way of organizing the language of his 'poetic' cinema. It is modern, minimal, strange. Soldiers sit with machine guns in their laps while actors, not yet costumed, strike surreal, frozen poses in tight jeans and colourful shirts. Gaudy, hollow picture frames and fragments of sculpture stand alongside Orthodox priests and entirely nude women.
What could have been. The fragments of Kyis Frescoes

James Steffan gets somewhat into the mind of Parajanov at this juncture, observing how — fresh from the international success of Shadows — the filmmaker set out self-consciously to cement his place in cinema's hall of fame. No shrinking violet. Kyiv Frescoes would have been a simple story, complexly told. A story of a man named Chelovek ('the man') who pays a longshoreman to deliver a basket of flowers to a retired general. By a slip of confusion, a near comedy of manners, he instead delivers it to a woman, a war widow who now works in the Museum of Arts, Kyiv - the custodian of the Infanta Margarita by Velázquez. The Longshoreman spends the night at the woman's apartment. Later on, the Infanta steps literally out of the painting, so as to console the grieving widow.
The production was — to say the least — chaotic, or at least convoluted. An early draft of the script, later published in 1990, comes apparently the closest to Parajanov's kaleidoscopic vision, though it is far from "definitive". Levin, speaking of that draft, describes it in rapturous albeit uncertain terms, with its "outwardly chaotic, incoherent, rhythmic, film-imagistic prose". A thing "suffused with light." Later drafts, by comparison, seem somewhat 'tamed' down. The final shooting script and screen tests were submitted to Moscow and the office of the studio's head, Derzhkino. They were not opposed to it, in principle, but seemed nervous about its experimental character and the fear that these tests would not form a coherent 'unity'. So as to head off these concerns, they suggested (read: demanded) that a writer, a person 'of letters', were attached to the project in order to help translate Parajanov's vision into a more comprehensible and organized whole. Revisions were made. Still, the board of advisors at the studio found that it needed yet further "corrections." From the outside, and from a remove of years, this looks like a whole lot of vacillating. Films about Kyiv's history and the triumph of the 'Great' war were welcomed, indeed encouraged. But a film like this? Experimental, compositional, ethereal. The two worlds gazed at one another, before turning their faces away.
But Parajanov, brimming with a newly-discovered language and vibrating with the possibilities of a truly poetic cinema, tasted the fire on the wind. Wounded, but undimmed. Instead, he headed home to Yerevan. But not with his tail between his legs. A job offer awaited him at Armenia's Armenfilm studio - to produce a new feature film. A film that would eventually become The Colour of Pomegranates.
"I owe Armenia a cinematographic confession". Speaking in 1989, Parajanov — filmed shortly before his death — revealed something of a testament, a "personal bible". Behind him is a softly billowing curtain, yellow, ochre, red, a film reel propped against a wall. This was his "vision of dreams". What troubled him, and motivated him, was an obliteration of the past - the past that he so desperately sought to drag into his present. It was the "tragedy of a cemetery being torn up", speaking of a park built in honour of old-hand Bolshevik revolutionary, Kirov. "The cemetery", he laments, "must give way . . . the ghosts are cast out". But it is Parajanov who must become their vehicle. "They seek shelter with me, their living heir - but I can't take them in". This impasse was the denial of the Soviets to allow Parajanov, and filmmakers and artists like him, to bear the legacy of their collective past. Cast adrift in the modern world, alone, pallid, shrieking, these ghosts — he smiles — "know neither electricity nor insurance agents". He smiles again, gesturing from his throat. "I have to prove I love them".
And in this way, Parajanov's cinema becomes an ecstatic channelling; a proof of love, a proclamation of faith. Ghosts that are channelled, ghosts that are summoned. Let loose. The filmmaker, the artist, must prove himself worthy as a guide — a vessel — for the disjointed and wandering ghosts of his nation's past. He must rip his shirt and don the costume of an excavated, obliterated past. The ghosts don't stop existing. They haunt, and wheel, and caterwaul. Parajanov let them bathe in the blank, glossy surface of his films. In The Colour of Pomegranates, ripe fruit is split with a knife. Its juice bleeds into the shape of the borders of the ancient kingdom of Armenia. Later, dyers lift bolts of wool from vats in the colours of the national flag. It does not reveal itself easily. Its references are coded, submerged, even while they operate with the loudness of screaming.
The film — his masterwork, nobody would disagree — tells the story of 18th-century Armenian poet Sayat Nova. Intertitles suggest that Parajanov would explore his "inner world", his "passions and torments". A foot, crushing grapes beneath its heel. Flapping fish, gasping for air on a large stone plate. Ian Christie remarks on actress Sofiko Chiaureli's playing of multiple, androgynous roles. The poet as a youth, the princess whom he loves. A nun. An angel. Shot with a limited budget, without lighting, Parajanov nonetheless had to reckon with the baffled and snub-nosed intransigence of the Soviet authorities, for whom the film — poetic, mythic, lyrical, obscure — had the scent of decadent 'Formalism'. Sergei Yutkevich was brought on to re-edit the rushes, adding intertitles, with the ambition of making Pomegranates "more widely showable". Like Tarkovsky's Andrei Rublev, the film would encounter expressions of confusion, suspicion, vitriol. The questionable scent of mysticism, faith, autonomy. It would receive its full release only in 1983, fourteen long years since its completion.
My own journey to the Parajanov Museum, to the long, low loop of the Hrazdan River, was complicated by its indirection, and the dates seem difficult — years later — to fathom. A layover in Berlin. A train to Prague. A flight to Hungary, where me and a friend, H, linked up with another friend, also H. And then we flew again to Istanbul, where Prague H and I had already spent so much time, though never together. Him, exploring. Me, working. We tarried, without a map or a motive. We met up with a friend, a photographer, W, before passing slowly and lazily south, and then striking east. We stopped in Antep. We rode, by bus. No air conditioning. Lazy heat that sank. In Diyarbakir and Mardin, where the 'Armenian' houses — properties seized during the Genocide, their Armenian owners turfed out, murdered, lost — had become hotels. We stayed in one such place, its high rear courtyard giving us a bird's eye view across the plain of Mesopotamia, and — less prosaically — the frontline of the war between Syrian rebels, government forces, ISIS and Kurds. By night, American and Turkish fighters took off and plunged into the inky black swirl of the Syrian night. Little white flashes. Dropped ordnance. By day, just heat haze - and a view toward infinity. I was still trying to steer a magazine at that time, drinking thick Turkish wine and smoking cheap cigarettes and doing fuzzy video calls on the patio. We decided to head east, again. Further, toward the sump of Mount Ararat. Toward Van with its pearlescent, shimmering lake.
Crossing from Turkey into Georgia, the mountains heave into view

Our time in that city wasn't happy. It was strange, strangulated. Our little group was held together by a lattice of shifting and complicated needs and motives that none of the others ever got a grip on. One night, I slept on a balcony - escaping the ferocity of the heat after a day of warm beers and too much coffee. We got way too high by the shores of the lake and stumbled back through a tormented, garish nightmare of blasted roads and campfires and neon-lit car dealerships. It had brought us together. It had shoved us apart. Weeks and weeks upon that slow road had begun to wear heavily on all of us. Eventually, already too late, we packed everything up, the pieces of us, and headed north - toward Kars, high in the verdant and historic hills of ancient Chorzene. As we climbed, the air began to thin - the scrappy, scrubby desert and dry plains giving way to green farming towns and, eventually, mountains. Now we could really breathe.
Landscapes rarely come to mind when you think of Parajanov. Lutes, stringed instruments, gilded coffee sets and the flapping pages of religious books. You think of costumes and props and swords and animals. A flurry of chickens thrown down onto the floor of a church, scrabbling wildly, some bleeding, others flying and limping away. Wine poured over a man's chest. Delicate linen held before the face of a beautiful woman. But these films are, each of them, grounded in the spaces of the Caucasus - a tiny terrain riven with violently diverse landscapes, where towering snow-capped mountains jostle against rolling plains, traffic-swarmed cities, rolling deserts, arid tundra. Pot-holed roads bear cattle and pre-1989 cars. For a while, we rode with a driver, a Russian veteran of the 'first' war in Afghanistan, who showed us his tattoos and his scars. His car was a sort of limousine, reserved once for party officials - and now us. I was there on assignment. Writing, or trying to.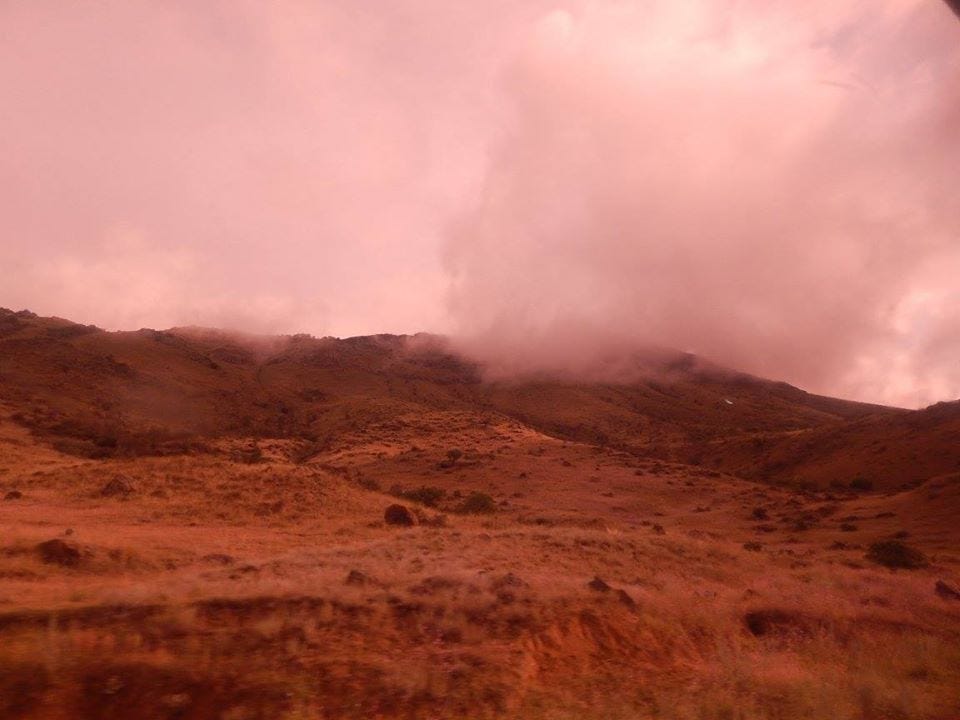 The pomegranate-coloured hills of western Armenia

The Colour of Pomegranates takes place in the cloisters of a monastery, giving only fleeting glances of the world beyond. A cemetery, thronged with choreographed and worshipful mourners. A black, fertile field of clods and soil, over which two boys run and fall. It is a closed world, a place of vaults, courtyards and windowless rooms. Later, however, Ashik Kerib and The Legend of Suram Fortress would explode themselves back into the landscapes of Georgia and Azerbaijan. Wide shots give spectacle and girth to Parajanov's hyper-stylized tableaux; horses circling, swordsmen dancing, women chanting. Even leopards, lounging. Slowly, after years of confinement and prison, Parajanov began to reach outwards, longingly, into the landscapes of his beloved and multiple homelands. The world will be filled with myth. The 'modern' is a product and a condition of its heroes and its stories. Modern life is legacy, lived.
When thinking about where Parajanov stands amongst his peers, there seem few handy similarities. The obsession with myth, with the rich potentiality of national folklore. The composition of hyper-stylized tableaux and 'artificial' scenes. I think of Pasolini and, particularly, the staginess of his Medea. Parajanov described Pasolini as "like a God", enraptured — it would seem — by his "majestic style". This is recounted in the 1994 documentary Parajanov: a Requiem. It would be worth remembering that Pasolini suffered some thirty-three trials in his own lifetime, almost always battling the same repression and misunderstanding. Steffen, in his peerless account of the work of Parajanov, suggests the influence of La Ricotta (1962) and The Gospel According to St. Matthew (1964), though many have recounted the oft-repeated story of Parjanov visiting a Tbilisi cinema some seven times to watch Pasolini's Oedipus Rex (1967), coinciding almost exactly with his return to Georgia and the starting of his work on what would become The Colour of Pomegranates. He was friends with Tarkovsky. They shared letters, drawings and works of art while Parajanov languished in prison.
These were difficult and transformative years. Unable to shoot, he drew. He sketched. Scenes of prison life (hairy, lice-ridden convicts holding their genitalia in their hands before a trough of water). Scenes of religious ecstasy. Later, he claimed that these years gave him "purity" — not only as an artist, but as a spiritualist. In prison, he heard the "confessions" of his fellow inmates. These would become "screenplays" in his mind, many of which — he argued — would be buried with him. But some whispers of this world did escape his confinement. Parajanov would write a screenplay that would become Yury Ilyenko's Swan Lake: the Zone (1990), released just one year before the elder filmmaker's death. In this rapturous and surreal tale, a convict — a skewed mirror of Parajanov? — escapes imprisonment and hides within a model of a hammer and sickle. It is a tale of the tortures and agonies of political repression. It is a romance. It is a tragedy. I've seen people describe it as "obtuse", mythical, "decaying" — a "nightmare". These things are true, yet they reflect Parajanov's later belief that incarceration was itself an evil, that it "makes people pathological". That "if you put people in isolation, tragic things happen".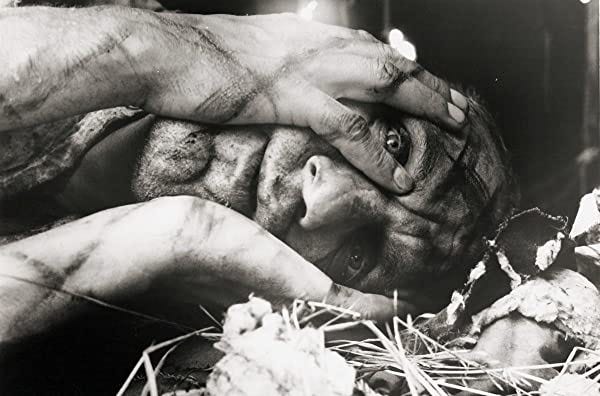 D in Ilyenko's Swan Lake: the Zone (1990) (screenplay: Sergei Parajanov)
Nobody is Parajanov. Parajanov is Parajanov. He said that you are born with your art, that it cannot be taught. Not even at the best schools. Maybe once I would have curled my lip at this. But as the years climb forward, I realise that I don't care - that there is something ecstatic and liberating in saying this. It doesn't seem correct. It doesn't matter. I used to believe that I might create something lasting, a moment of shimmering, shivering space. But now I think about the importance of simply being honest to that art you have carried with you — in your stomach — even if it is quiet and minor. Even if it has the littleness of a stone that has been crushed by a century of rivers. As long as it might let the ghosts in.
In a short film from 1985, Arabesques on the Pirosmani Theme, Parajanov made his most daring attempt to join the confluence of the legendary and the living. An experimental study of the paintings of Niko Pirosmani, with Parajanov on top and boisterous form; composed, formulated, playing both with the frame and the framed. In its final moments, a man — dressed in a suit of white linen, bowtie and straw hat — bears one of Pirosmani's paintings above his head while walking backwards, across a field, toward the white prefabricated buildings of modern Tbilisi. Two horsemen, dressed in glorious medieval finery, rove and rear around him. Art, modernity. The living and the long-ago dead. All ride together. All live and die as one.
Several visits. Delayed decisions. I spent a final long week in Tibilisi, not doing much at all. We spent afternoons together and, increasingly, apart. More often than not I'd think about the Parajanov Museum, an entire country away. Its walls of costumes, its folded letters, its collages and sculptures. I was curious. Curious about who else was here, who visited. Why. The odd tourist, nervously stepping over the foyer, as I first did. Eventually, we spent an evening in a small, shabby hotel. Our friend slipped off with somebody. We cradled drinks in the syrupy heat. At some point, I decided that I was done. A ticket booked, connecting the dots between Tibilisi — with its hulking modernisms, its delicate balconies, its golden churches — and London. I wasn't homesick, after so many months. Nor was I sick of this, of this place. Sometimes, you turn your face away from something, not because you know why, but because you realise you can. So I turned my face, and I put the city — the region — behind me. What I found in Parajanov — what I continue to find — are not symbols, signs swallowed by their signifier, but places where the world of past, present and future wear thin, so translucent you can almost hold each of them in your hand. This is how the ghosts get in. This is how the future might be made.
A pomegranate in the 'Armenian house', southern Turkey, 2015
Some resources on Parajanov
BFI. 'Where to begin with Sergei Parajanov'
Christie, Ian. 'The Colour of Pomegranates: Parajanov Unbound'. Criterion, Film/Essays
Steffen, James. The Cinema of Sergei Parajanov. Madison: University of Wisconsin Press, 2013
Steffen, James. Kyiv Frescoes: Sergei Paradjanov's Unrealized Film Project. Kinocultura, 2009.